>
>
>
Continuous ITO Glass Sputtering Line
Continuous ITO Glass Sputtering Line
Brand :Hongfeng VAC
Product origin :China
Delivery time :Within 150 working days after order
Supply capacity :5 sets per year
Continuous ITO Glass Sputtering Line is capable to apply ITO coatings on glass(mainly material of panels) slides. The Continuous ITO Glass Sputtering Line works efficiently.
Continuous ITO Glass Sputtering Line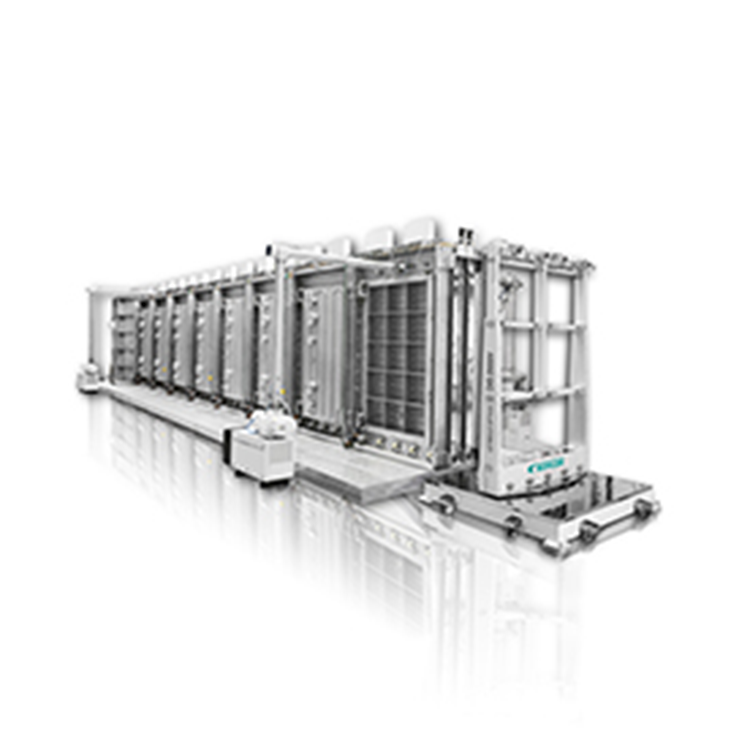 ITO conductive glass coating equipment adopts vacuum magnetron sputtering technology and unbalanced magnetron sputtering technology to coat high quality float glass with SO2/ITO layer. Based on international advanced control system. The whole manufacturing process works automatically and continuously.
Main technical parameter:
1. Vacuum chamber is made of stainless steel, vertical structure and the out wall connects with cooling water, inner wall with stainless steel block.
2. Vacuum system: Both of diffusion pump system and turbo molecular pump system are available.
3. Evaporation source: DC magnetron sputtering target, unbalanced magnetron sputtering target are respectively fixed on both sides of the vacuum chamber.
4. Workpiece drying system: The sputtering line adopts stainless tubular heater and vapor chamber to assure the heating homogeneity of the glass.
5. Air inflating system: mass-flow gas meter and automatic pressure controller.
6. Electrical control system: touch-screen and PLC automatic control to realize data display, operation and control by human-machine conversation system.
7. Water cooling system: vacuum cooling and cathode cooling system with water pressure protection switch and water flow switch.
Main technical parameter:
Ultimate vacuum pressure: 7X10-4pa
Average production cycle: 100 second/set
Glass size: 750X1200(mm)
Total power: 350kw
DC magnetron target power: 20kw
Unbalanced magnetron sputtering target power: 20kw
We do have different models of PVD coating machine. But usually we recommend the machine according to the size of the max. parts of customers. Since we have seen the drawing of pcs from you, we will make sure the machine can coat all of your pcs and reaches to the desired capacity.
...more
Get the latest price? We'll respond as soon as possible(within 12 hours)