>
>
>
Planar Sputtering Cathode Coating Machine
Planar Sputtering Cathode Coating Machine
Brand :Hongfeng VAC
Product origin :China
Delivery time :Within 70 working days after order
Supply capacity :30 sets per year
Planar Sputtering Cathode Coating Machine is a vertical single-door PVD vacuum coating machine.

The coatings deposited by Planar Sputtering Cathode Coating Machine has improved density, uniformity, purity and hardness. Widely used in high-end decorative and functional films in the fields of watches, glasses, communications, electronics, machinery, decoration and transportation and aviation.
Planar Sputtering Cathode Coating Machine

General Description of Planar Sputtering Cathode Coating Machine :
Main feature:
1. Fast deposition rate and small temperature rise, which can better suppress the phenomenon of fire and target poisoning;
2. The high energy released by sputtering significantly improves the film density and adhesion;
3. Touch screen + PLC, can realize full automatic control, automatic / manual switch at any time;
4. The coating chamber has large volume, large loading capacity and high production efficiency.
5. The work frame adopts the common rotation structure, which can be set to automatic forward and reverse, and the product has good uniformity;
6. The whole Planar Sputtering Cathode Coating Machine has reasonable configuration, fast pumping rate, low noise and low energy consumption
Basic configuration:
1. The coating room, valve and pipeline are made of stainless steel, vertical and single door structure, and the effective diameter of the vacuum chamber is from Φ1000mm to Φ1800mm
2. The vacuum system consists of mechanical pump, rotary vane pump, roots pump and high vacuum oil diffusion pump with cold trap or with molecular pumps;
3. The coating system adopts 2 ~ 8 sets of flat targets or column targets, and is equipped with 2 ~ 8 DC or MF power supplies;
4. The auxiliary extraction system uses a low-temperature water vapor trap;
5. The inflation system is controlled by 1 ~ 4 gas flow meters and flow control (display) instruments;
6. The electric control system is provided with circuit overload, water cut, gas cut sound and light alarm devices;
7. Control system (touch screen + PLC), real-time display of detailed parameters, fully automatic control of the entire production process, and automatic storage of process parameters;
8. Multiple sets of target sources can be equipped according to customer requirements.
Applications: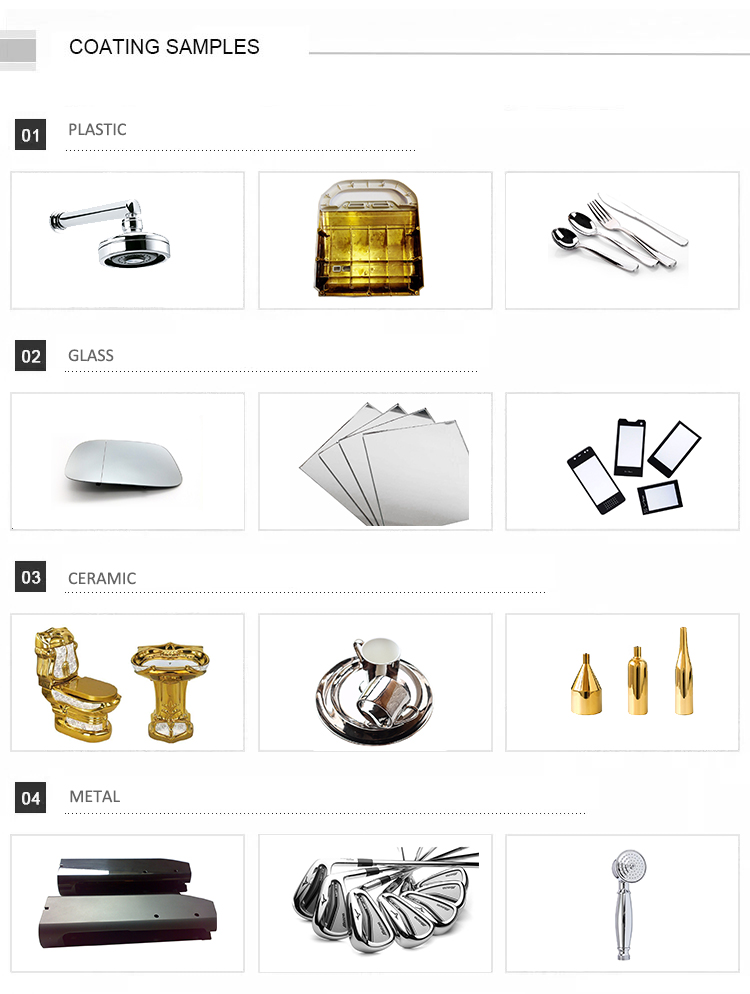 We do have different models of PVD coating machine. But usually we recommend the machine according to the size of the max. parts of customers. Since we have seen the drawing of pcs from you, we will make sure the machine can coat all of your pcs and reaches to the desired capacity.
...more
Get the latest price? We'll respond as soon as possible(within 12 hours)