>
>
>
PVD Vacuum Plastic Metallizing Machine
PVD Vacuum Plastic Metallizing Machine
Brand :Hongfeng VAC
Product origin :China
Delivery time :Within 60 working days after order
Supply capacity :30 sets per year
Plastic Metallizing Machine Applications
Products: Cups, handicrafts, decorations, toys and other products are coated with aluminum, chrome and other metal films. Vacuum aluminum evaporation coating can make the surface of the plated parts have metallic, or red, purple, blue, green and other colors. Cosmetic packaging, plastic bottle caps, glass aluminum mirrors, car lights, heels, gifts, Christmas balls, car lights, car wheels, sanitary ware accessories, etc.
PVD Vacuum Plastic Metallizing Machine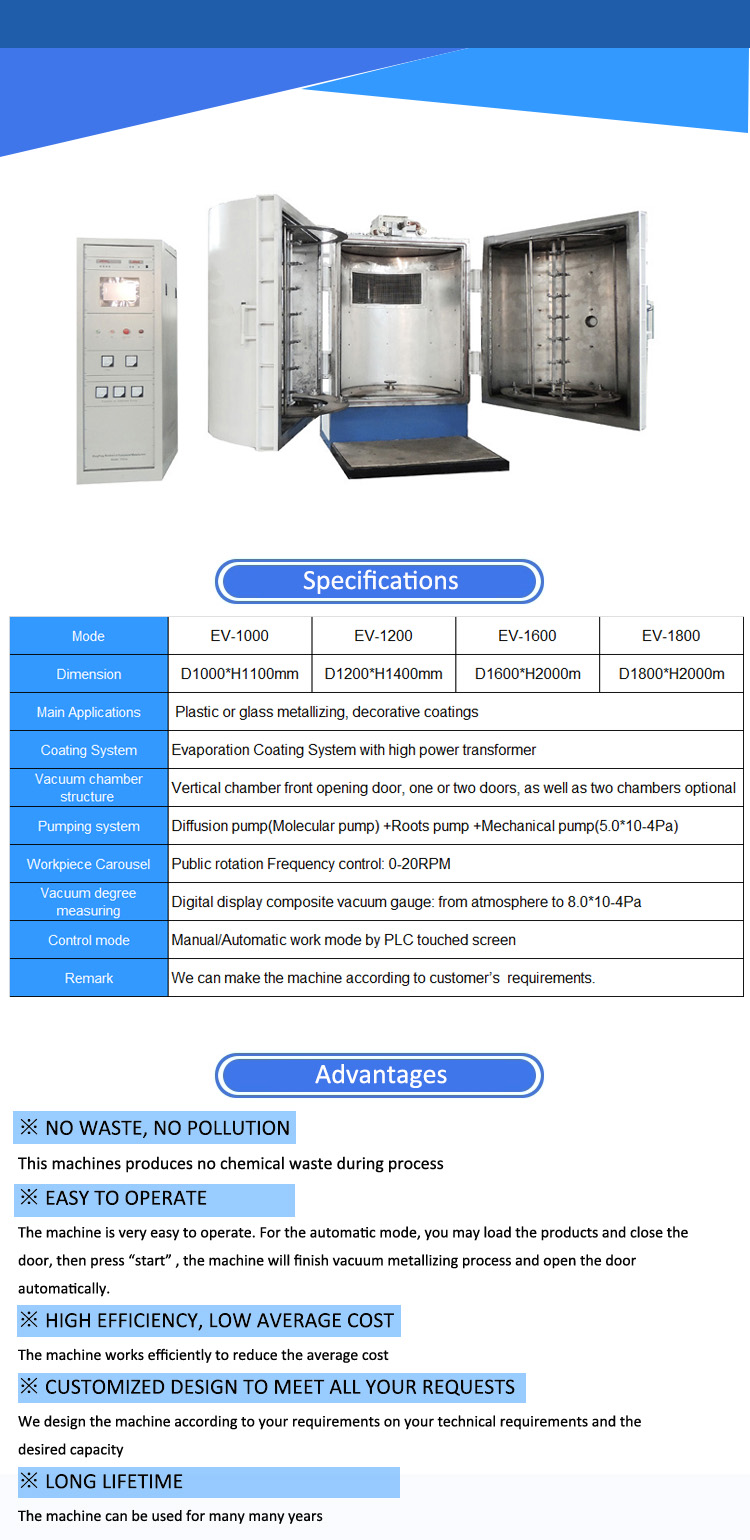 Technical specifications of the PVD Vacuum Plastic Metallizing Machine:
Structure of vacuum coating chamber: adopts vertical double-opening door, rear vacuum extraction system
Power type: Configure resistance evaporation power, ion bombardment power,
Vacuum chamber material: high quality carbon steel or stainless steel
Pumping system: equipped with diffusion pump or molecular pump + roots pump + mechanical pump + maintenance pump (optional optional cryogenic pump)
Cooling system: water circulation cooling method, also need to be equipped with cooling water tower or industrial chiller.
Rotation system: combination of revolution and rotation, frequency conversion adjustment
Intelligent control: PLC intelligent control + HMI full-color human-machine touch interface for fully automatic control
Alarm and protection: alarm for abnormal conditions and implement corresponding protection measures.
Other technical parameters:
Ultimate vacuum: 5.0 × 10-4Pa
· Air extraction rate: 5.0 * 10-245min
General specifications:
D1000mm * H1200mm, D1400mm * H1600mm, D1200mm * H1500mm, D1800mm * H2000mm, D2000mm * H2200mm
Vacuum chamber size or equipment configuration can be customized according to customer products and special process requirements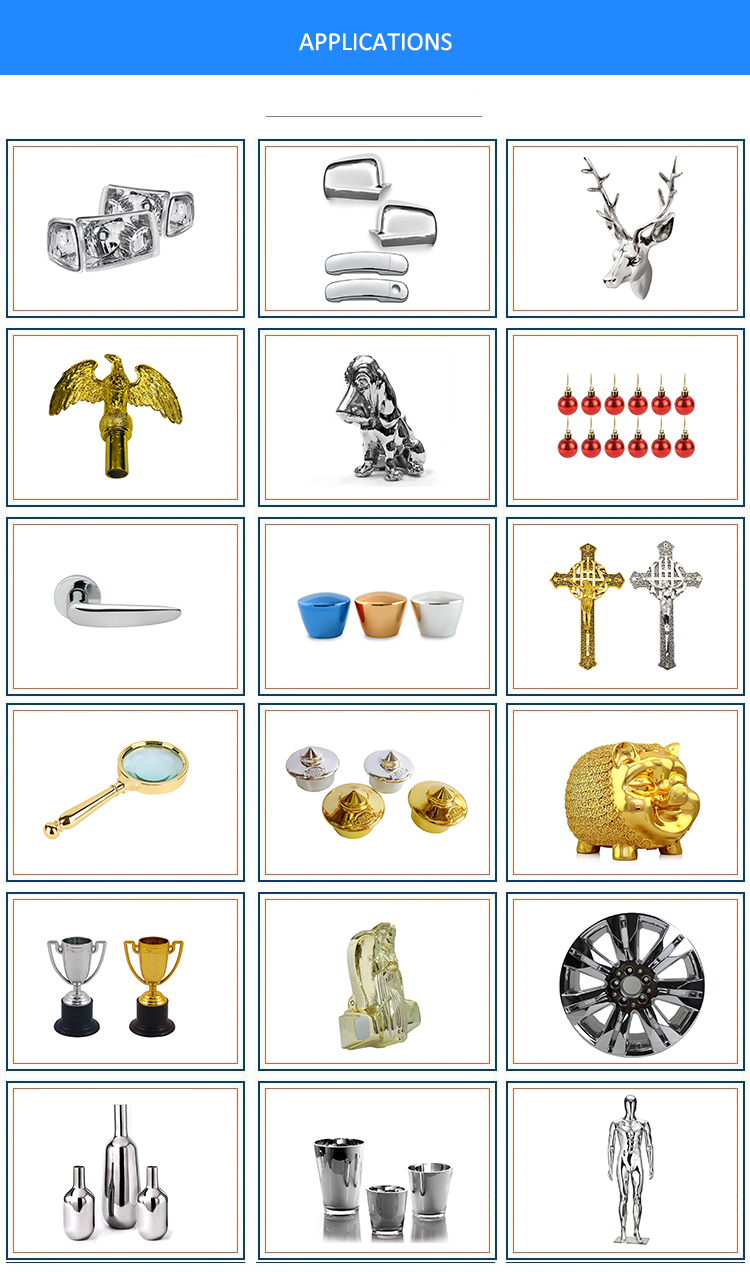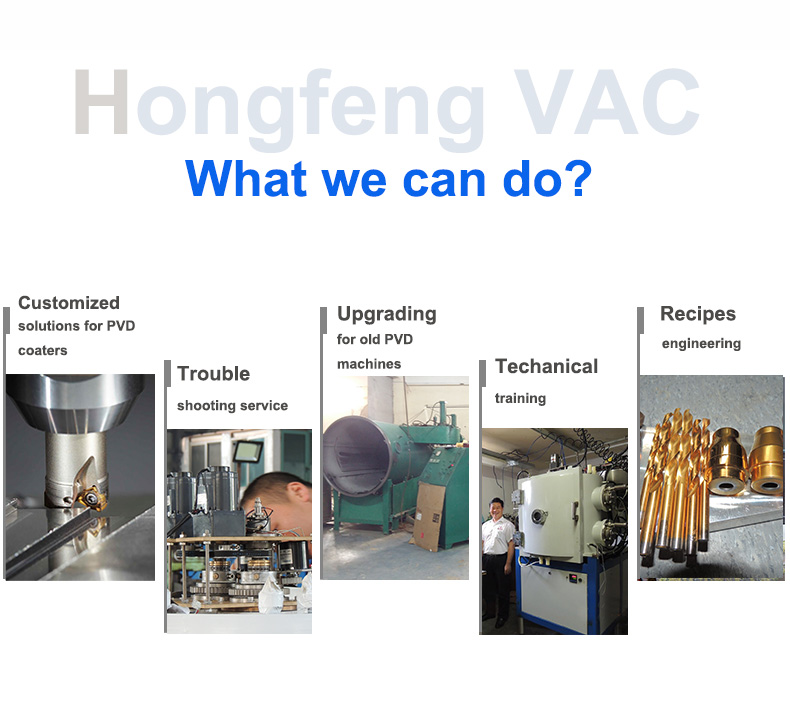 We do have different models of PVD coating machine. But usually we recommend the machine according to the size of the max. parts of customers. Since we have seen the drawing of pcs from you, we will make sure the machine can coat all of your pcs and reaches to the desired capacity.
...more
Get the latest price? We'll respond as soon as possible(within 12 hours)