>
>
>
Stainless Steel Decorations Vacuum PVD Coating Equipment
Stainless Steel Decorations Vacuum PVD Coating Equipment
Brand :Hongfeng VAC
Product origin :China
Delivery time :Within 70 working days after order
Supply capacity :30 sets per year
Stainless Steel Decorations Vacuum PVD Coating Equipment is the decorative purposes of PVD machine. Stainless Steel Decorations Vacuum PVD Coating Equipment comes with arc ion plating system and it can work with ceramic, glass and metal parts.
Stainless Steel Decorations Vacuum PVD Coating Equipment
Machine Compositions: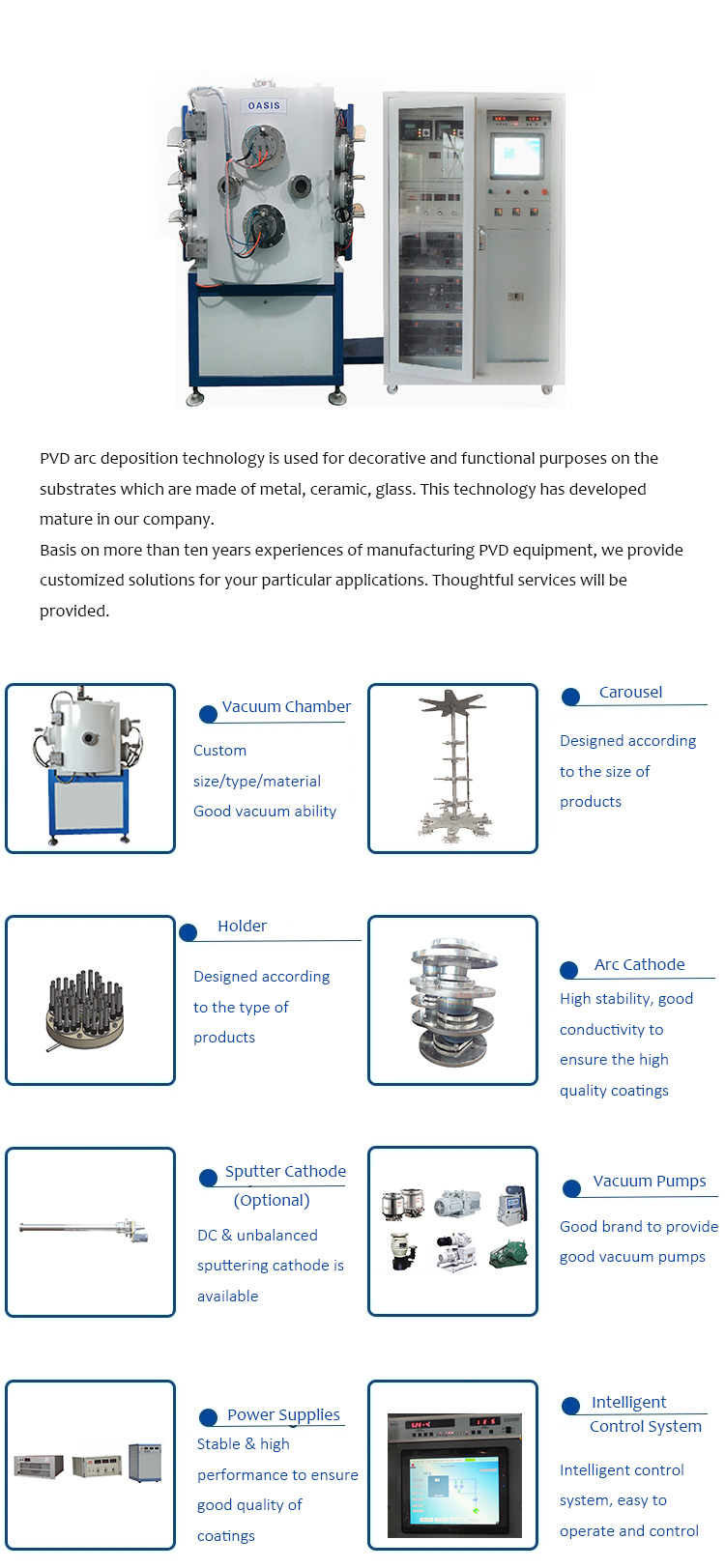 Machine Applications: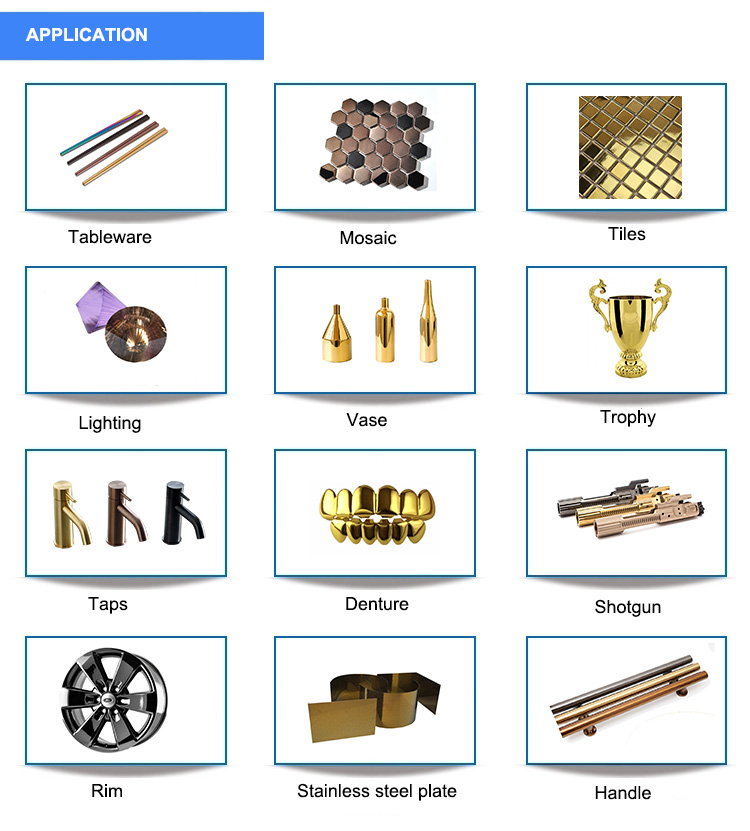 Machine Specifications:
Decorative Multi Arc Ion Plating Machine
(The configurations are custom made to meet each customer's needs)
Available coatings
(could be changed according to each machine)
TiN, Titanium, Chrome, Stainless steel, Aluminum, Silver, Copper, Nikel, etc
Common applications
1. Glass bangles
2. Ceramic tiles & mosaics
3. Glass mosaics
4. jewelry
5. Glass lighting parts
6. Metal parts
7. Tablewares
8. Dental items
9. Stainless steel sheets into Titanium golden sheets,
10. Shotgun parts, etc
Model Number
ARC-1000
ARC-1200
ARC-1400
ARC-1800
ARC-2000
Dimension of vacuum chamber(diameter*height)
1000*1100
1200*1400
1400*1600
1800*2000
2000*2200
Material of vacuum chamber
SUS304 or SUS316L with cooling jacket
Quantity of arc sources
8-12 sets
10-14 sets
12-16 sets
14-24 sets
18-36 sets
Pumping system
molecular pump or diffusion pump+mechanical pump
molecular pump or diffusion pump+mechanical pumps, booster pump
Pumping Time
From atmosphere to 5.0*10-2Pa less than 8 minutes
Bias Power Supply
20kW
30kW
40kW
60kW
60kW
Gas distribution System with Mass Flow Controllers
≥2 sets
Vacuum Limit
5.0*10-4 Pa
Working temperature
100-250 centigrades
Working mode
Automatic or Manual mode, by 10.4 inches PLC touches screen
Total Power
70-180kW
70-180kW
70-180kW
120-300kW
120-300kW
Footprint
3*3 meters
3*3 meters
3*4 meters
4*5 meters
4*5 meters
These units you can custom made
1. Size of vacuum chamber
2. Quantity of arc sources
3. Configurations of pumps
4. Gas distribution system
Optional instruments
1. Coatings thickness monitor
2. Leakage detector
3. Magnetron sputtering system
4. Evaporation system
About Hongfeng VAC: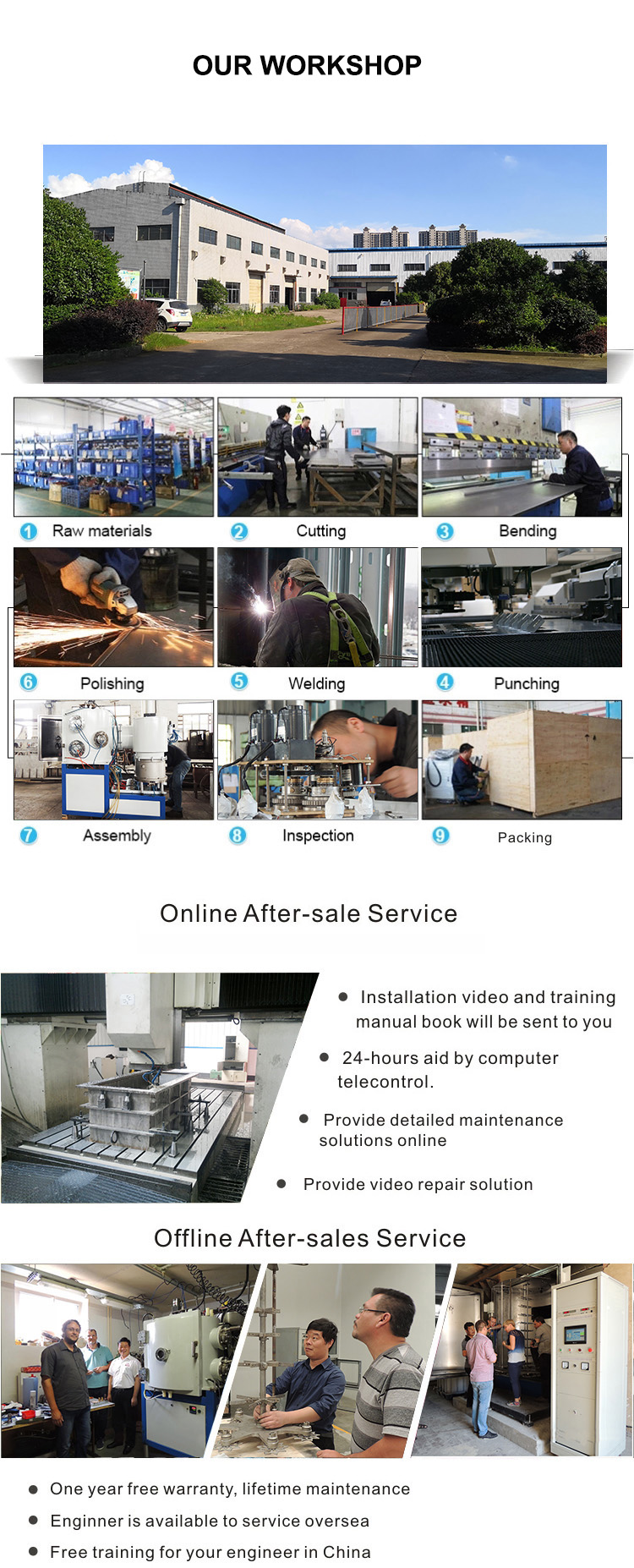 We do have different models of PVD coating machine. But usually we recommend the machine according to the size of the max. parts of customers. Since we have seen the drawing of pcs from you, we will make sure the machine can coat all of your pcs and reaches to the desired capacity.
...more
Get the latest price? We'll respond as soon as possible(within 12 hours)