>
>
>
TiAlN TiCN TiN CrN PVD Vacuum Coating System
TiAlN TiCN TiN CrN PVD Vacuum Coating System
Brand :Hongfeng VAC
Product origin :China
Delivery time :Within 70 working days after order
Supply capacity :30 sets per year
TiAlN TiCN TiN CrN PVD Vacuum Coating System is used for applying different kinds of PVD hard coatings on tools, dies, drills and knifes, etc.

The TiAlN TiCN TiN CrN PVD Vacuum Coating System comes with arc deposition or/and magnetron sputtering coating unit to obtain good quality coatings. The hardness of coatings can protect the surface of products so that we can make the lifetime of tools much longer than it without coatings.
TiAlN TiCN TiN CrN PVD Vacuum Coating System

TIN
TIN is a basic film, and it is still reliable and common standard film. This film can prevent abrasive wear and sticking wear. Being used widely because of its decorative function and as abrasion indicator
Application of TiN coatings:
Steel cutting, stamping and molding (low hardness material ) injection molding, diesel injection pump plunger, medical apparatus and instruments, piston ring
CrN
CrN is compact and smooth. It is still with high abrasive resistance, excellent corrosion resistance and sliding characteristics even though without enough lubrication. All above
make it as popular replacement of thin plating Cr and Ni. It is harmless for foods
Application of CrN coatings:
The valve gear components, piston ring. hydraulic piston, textile machinery components , food processing machine elements .
TICN
TICN is famous for its high hardness and high intensity. The tool with it has strong abrasive resistance. Low friction coefficient can avoid cold welding.
Application of TICN coatings:
Milling, stamping and molding in high mechanical load. stamping and moulding of low alloy steel and Austenitic steel in intermittent cutting, injection dies(abradant or melt with fiberglass)
AITIN
AITIN's hardness, inoxidizability and heat stability has been improved. Usually used in hard machining and high-speed milling. The film is also hard to abrasion and has good adhesion in the whole cutting speed even though for high intensity, difficult process material. Excellent anti-friction makes little cutting force
Application of AlTiN coatings:
Hard processing material(Ti alloy, Cr Ni Fe alloy), hard machining>52HRC, high speed cutting
TiAISiN is with excellent hardness and abrasive wear. Tool can prevent strong cutting and thermal stress. Low friction coefficient is good for forming and flowing.
Application of TiAISiN
Small parts(watch, electronics, medical equipment, mould processing)
Technical Specifications:
Functional applications
Cutting Tools - drills, mills, reamers, taps, gear cutters and inserts
Plastic moulding tools - especially high finish tools
Press tools stamping, punching and cold forming
Model Number
ARC-600
ARC-900
ARC-1000
ARC-1200
Dimension of vacuum chamber(diameter*height)
600*700mm
900*1000
1000*1100
1000*1200
Material of vacuum chamber
SUS304 or SUS316L with cooling jacket
Quantity of arc sources
1-4 sets
6-9 sets
8-12 sets
10-14 sets
Pumping system
molecular pump or diffusion pump+mechanical pump
molecular pump or diffusion pump+mechanical pumps, booster pump
Pumping Time
From atmosphere to 5.0*10-2Pa less than 8 minutes
Bias Power Supply
10kW
15kW
20kW
20kW
Gas distribution System with Mass Flow Controllers
≥3 sets
Vacuum Limit
5.0*10-4 Pa
Working temperature
Up tp 550 centigrades
Working mode
Automatic or Manual mode, by 10.4 inches PLC touches screen
Total Power
40-120kW
40-120kW
40-120kW
70-180kW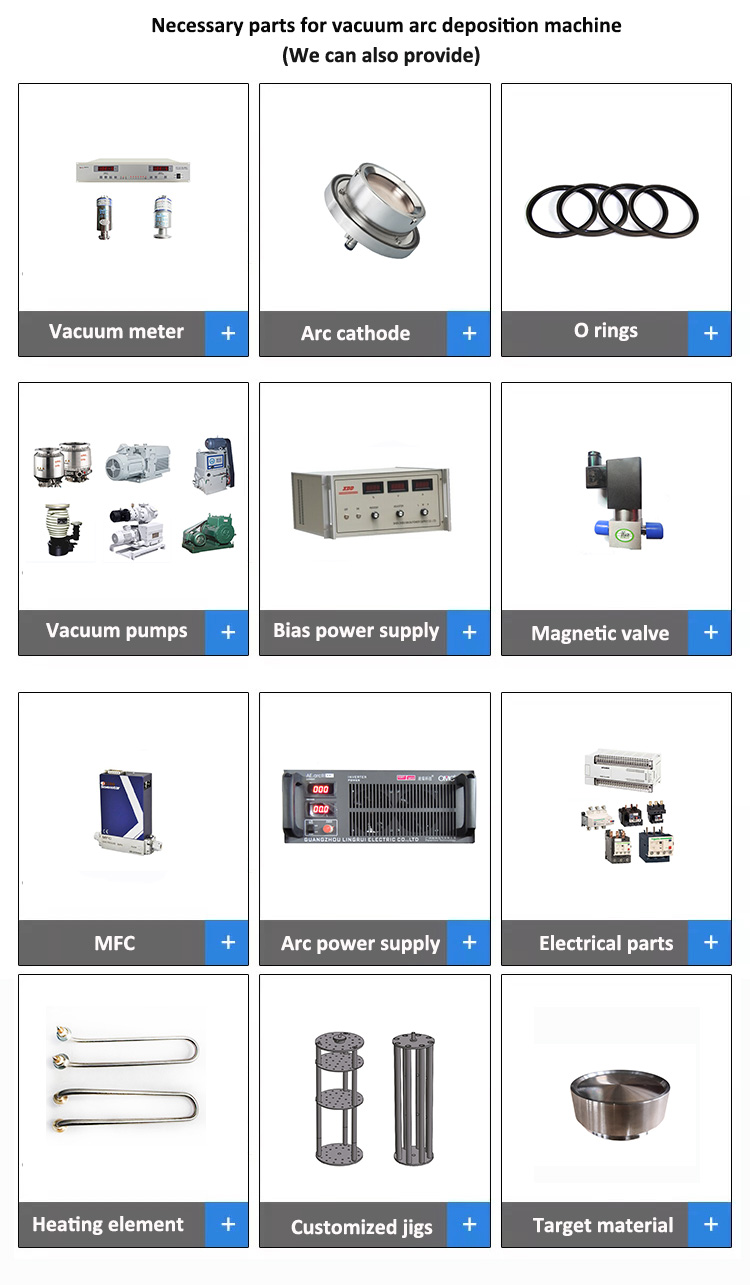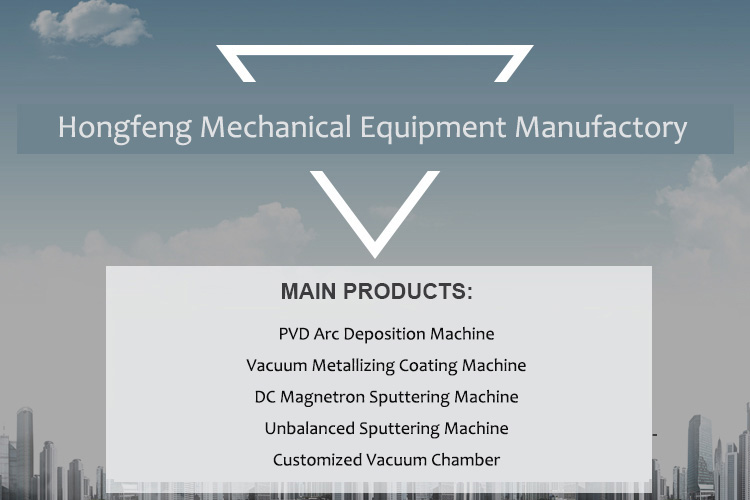 Contact Us: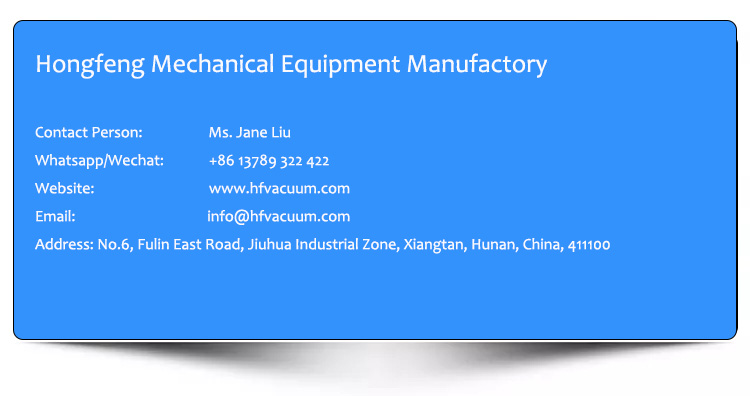 We do have different models of PVD coating machine. But usually we recommend the machine according to the size of the max. parts of customers. Since we have seen the drawing of pcs from you, we will make sure the machine can coat all of your pcs and reaches to the desired capacity.
...more
Get the latest price? We'll respond as soon as possible(within 12 hours)