>
>
>
Titanium Nitride PVD Coating Machine For Cutting Tools
Titanium Nitride PVD Coating Machine For Cutting Tools
Brand :Hongfeng VAC
Product origin :China
Delivery time :Within 70 working days after order
Supply capacity :30 sets per year
Titanium Nitride PVD Coating Machine For Cutting Tools has an arc ion plating system. This system is capable to apply different coatings, such as titanium nitride, chrome nitride, titanium aluminum nitride and other hard coatings on tools.

The cycle time for Titanium Nitride PVD Coating Machine For Cutting Tools is 5 to 8 hours because it works under high temperature and high vacuum conditions. We need reactive gases during the PVD process.
Titanium Nitride PVD Coating Machine For Cutting Tools
Machine Descriptions:
TiN (Titanium Nitride) This coating has become the choice for general machining and wear applications. It works well when shops are machining carbon steels and stainless steels. The coating is also a favorite for decorative items that need a gold appearance and good wear resistance. Injection molders find it works superior to chrome and nickel wet bath platings for release, wear and corrosion protection. Rubber molders have found the coating to provide better release and corrosion properties than wet bath platings.
There is two kinds of PVD technologies can apply titanium nitride coatings. One is arc ion plating, and the other is magnetron sputtering. Hongfeng VAC provides both solutions for your project. The sizes of vacuum PVD chamber of Titanium Nitride PVD Coating Machine For Cutting Tools is customized. We provide arc cathode or magnetron sputtering cathode.
Titanium Nitride PVD Coating Machine For Cutting Tools is the system which is used for applying PVD hard coatings, such as TiN, TiCN, CrN, TiAlN etc coatings on cutting tools, dies, drills and other tools. The hard coatings can increase the lifetime of the mentioned tools and it improves the work performance of them.
Optional Accessories:
1. Turbo molecular pumps
2. Polycold pump
3. Helium leak detector
Technical Specifications:
| | |
| --- | --- |
| Dimension of vacuum chamber(diameter*height) | 1000X1100 mm or customized |
| Material of vacuum chamber | SUS304 with cooling jacket |
| Quantity of arc sources | 10-12 sets |
| Pumping system | Diffusion pump/turbo molecular pump+ Roots pump+ Mechanical pump |
| Pumping Time | From atmosphere to 5.0*10-3Pa less than 30 minutes |
| Bias Power Supply | 20kW, the voltage can reach up to 1200Volts. |
| Gas distribution System with Mass Flow Controllers | 4 sets |
| Vacuum Limit | 5.0*10-4 Pa |
| Working temperature | Up to 550 centigrades |
| Working mode | Automatic or Manual mode, by 15 inches PLC touches screen |
| Total Power | 90kW |
Applications: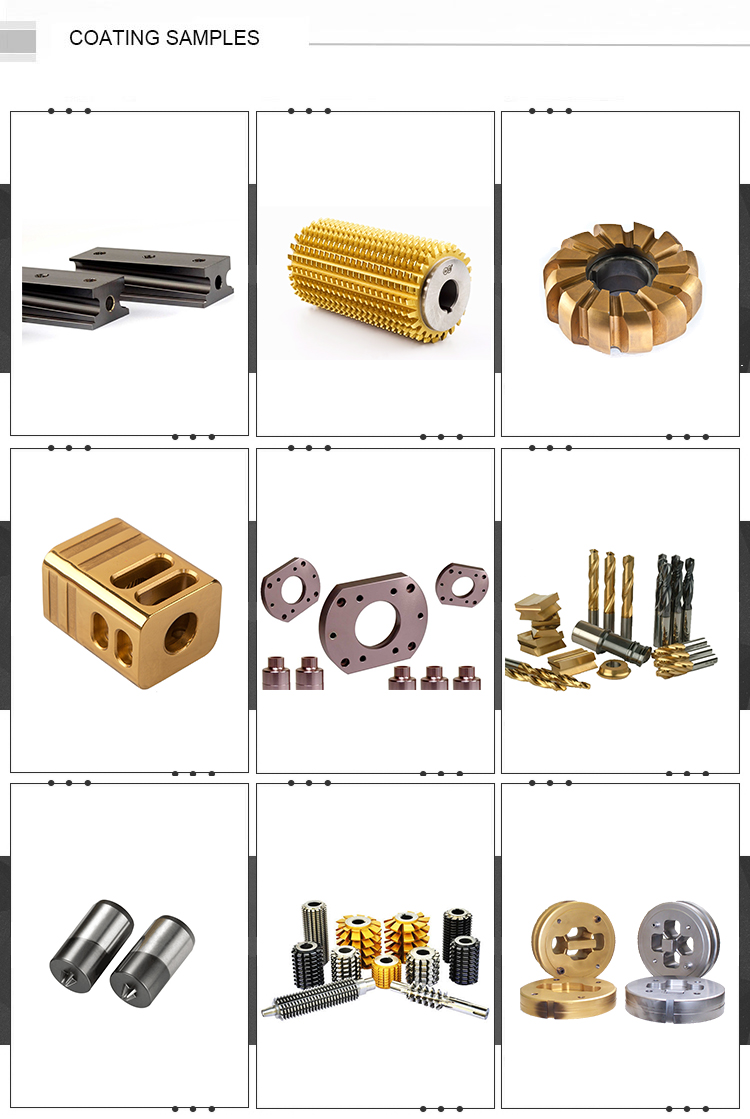 We do have different models of PVD coating machine. But usually we recommend the machine according to the size of the max. parts of customers. Since we have seen the drawing of pcs from you, we will make sure the machine can coat all of your pcs and reaches to the desired capacity.
...more
Get the latest price? We'll respond as soon as possible(within 12 hours)