>
>
>
Tool Hard Coating PVD Machine
Tool Hard Coating PVD Machine
Brand :Hongfeng VAC
Product origin :China
Delivery time :Within 70 working days after order
Supply capacity :30 sets per year
To coat hard coatings on tools and molds is a simple way to improve the lifetime of them. Tool Hard Coating PVD Machine is the right option to do this work.

We make customized Tool Hard Coating PVD Machine according to your particular needs. In this case you will receive a perfect machine for your own project.
Tool Hard Coating PVD Machine
Machine Compositions: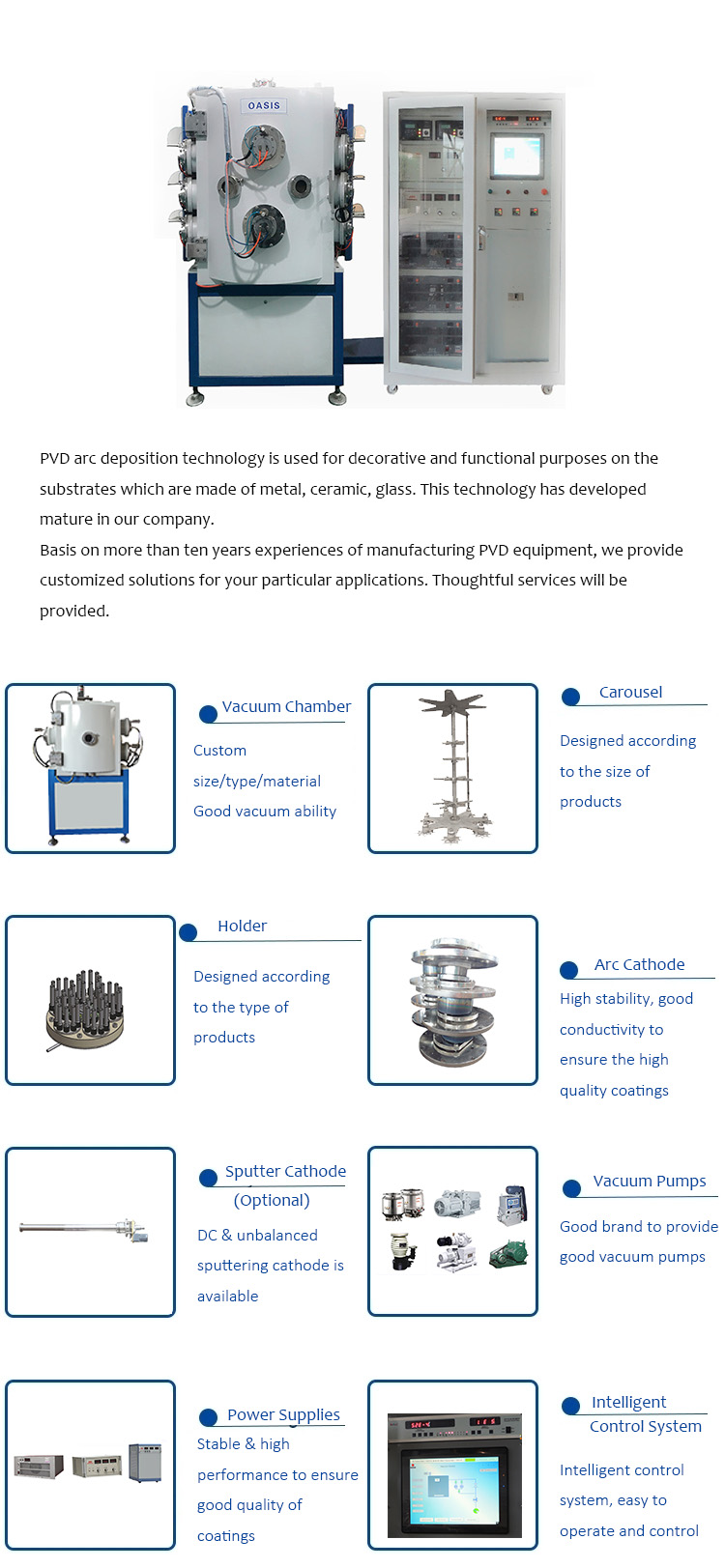 1 Door
2 Customized Vacuum PVD Chamber
3 High vacuum pumping system
4. Vacuum measuring and control
5 Arc deposition sources with power supplies
6 PLC Control unit of the system
7 Double Stainless steel liner set
8 Fixtures moving system
9 Iron frame
Product Description:
Tool Hard Coating PVD Machine is the system which is used for applying PVD hard coatings, such as TiN, TiCN, CrN, TiAlN etc coatings on cutting tools, dies, drills and other tools. The hard coatings can increase the lifetime of the mentioned tools and it improves the work performance of them.
Usually we apply the coatings by arc evaporation deposition system and magnetron sputtering coating unit. Sometimes we can design a hybrid PVD machine with both coating systems, in this case, we can obtain more possibilities of coatings.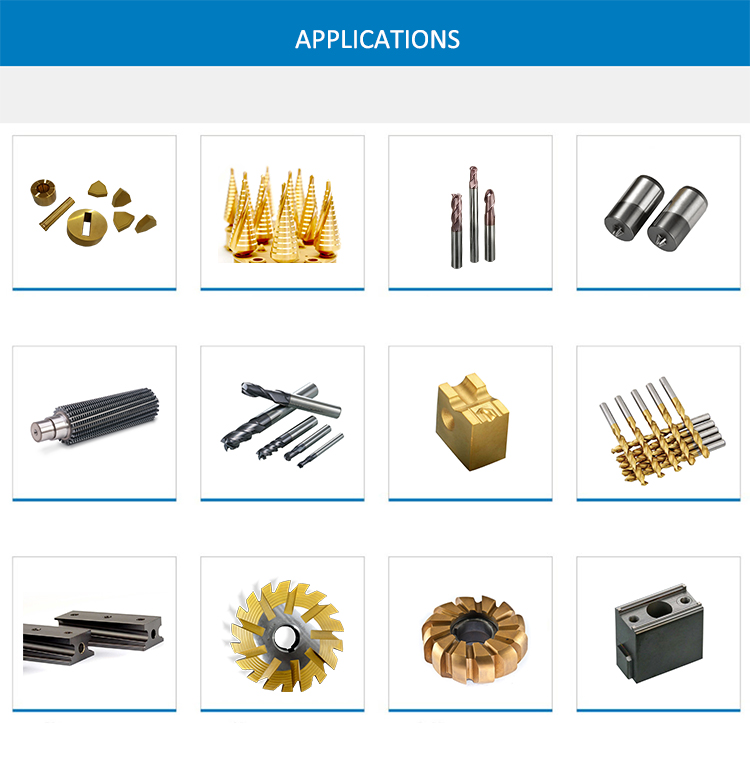 Optional Accessories:
1. Turbo molecular pumps
2. Polycold pump
3. Helium leak detector
Technical parameters:
Functional applications
Cutting Tools - drills, mills, reamers, taps, gear cutters and inserts
Plastic moulding tools - especially high finish tools
Press tools stamping, punching and cold forming
Model Number
ARC-600
ARC-900
ARC-1000
ARC-1200
Dimension of vacuum chamber(diameter*height)
600*700mm
900*1000
1000*1100
1000*1200
Material of vacuum chamber
SUS304 or SUS316L with cooling jacket
Quantity of arc sources
1-4 sets
6-9 sets
8-12 sets
10-14 sets
Pumping system
molecular pump or diffusion pump+mechanical pump
molecular pump or diffusion pump+mechanical pumps, booster pump
Pumping Time
From atmosphere to 5.0*10-2Pa less than 8 minutes
Bias Power Supply
10kW
15kW
20kW
20kW
Gas distribution System with Mass Flow Controllers
≥3 sets
Vacuum Limit
5.0*10-4 Pa
Working temperature
Up tp 550 centigrades
Working mode
Automatic or Manual mode, by 10.4 inches PLC touches screen
Total Power
40-120kW
40-120kW
40-120kW
70-180kW
We do have different models of PVD coating machine. But usually we recommend the machine according to the size of the max. parts of customers. Since we have seen the drawing of pcs from you, we will make sure the machine can coat all of your pcs and reaches to the desired capacity.
...more
Get the latest price? We'll respond as soon as possible(within 12 hours)