>
>
>
Twin Cathode Sputtering Coating Machine
Twin Cathode Sputtering Coating Machine
Brand :Hongfeng VAC
Product origin :China
Delivery time :Within 70 working days after order
Supply capacity :30 sets per year
Twin Cathode Sputtering Coating Machine is one of the sputtering system in PVD technology.

Twin Cathode Sputtering Coating Machine can be used for applying dark black color and other colors on different kind of products. SiO2 coatings also can be made by the same machine.
Twin Cathode Sputtering Coating Machine
About the Machine:
Unbalanced magnetron sputtering technique has become the mainstream technology of sputtering, what characteristics superior to the DC sputtering are: Overcome the phenomenon of anode disappearance. Reduce or eliminate the abnormal arc discharge of target, therefore, improve the stability of sputtering process technology, and increase the deposition rate of dielectric coating.
Hongfeng VAC has new developed plane target, cylindrical target, twin target, opposite target and various structures of unbalanced magnetron sputtering targets.
Twin Cathode Sputtering Coating Machine is widely used in watchband, watchcases, mobile shell, hard wares, tableware etc It can deposit all kinds of decorative coatings such as TiN, TiC, TiCN, TiAIN, CrN etc.
Twin Cathode Sputtering Coating Machine is also used for applying hard coatings on tools, moulds, drills, cutting knives with TiN, CrN, TiCN, TiAlN, etc.
Hongfeng VAC also provide the separate unbalanced sputtering system, DC sputtering cathode for the customers who wanted to make their own PVD sputtering system by themselves.
Machine Usages: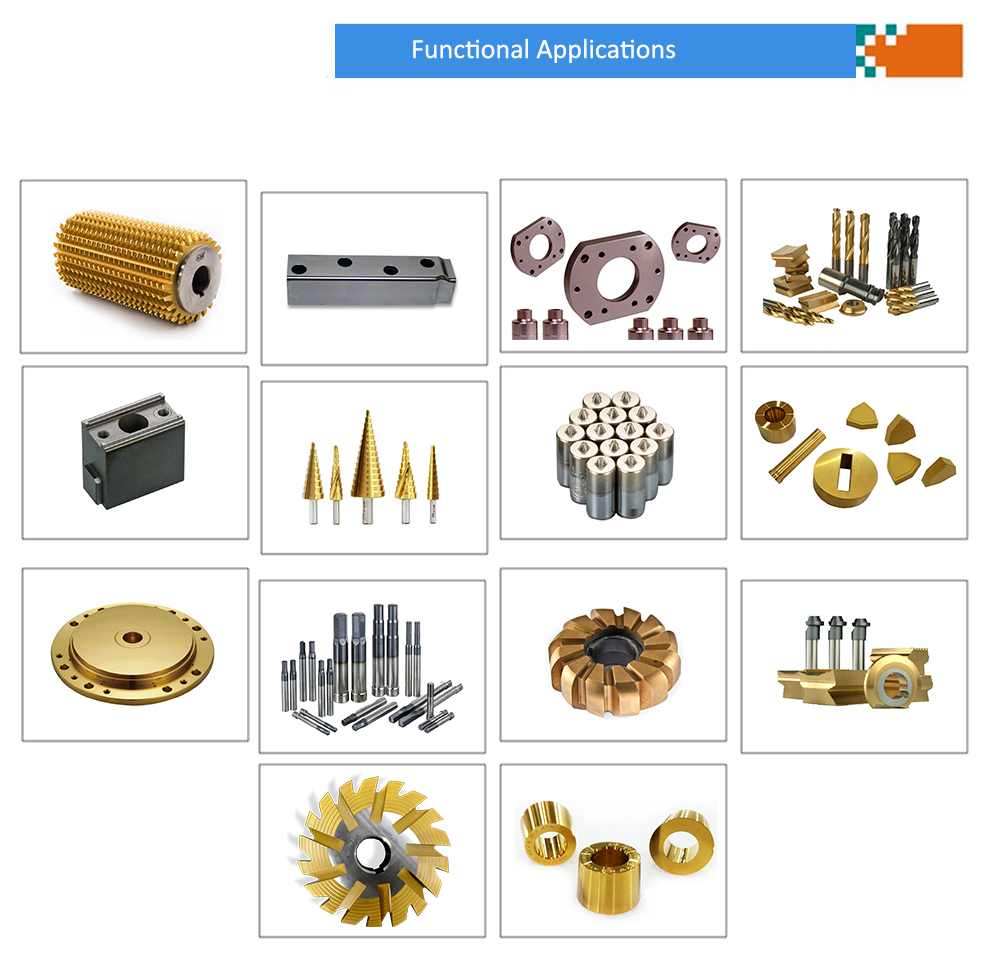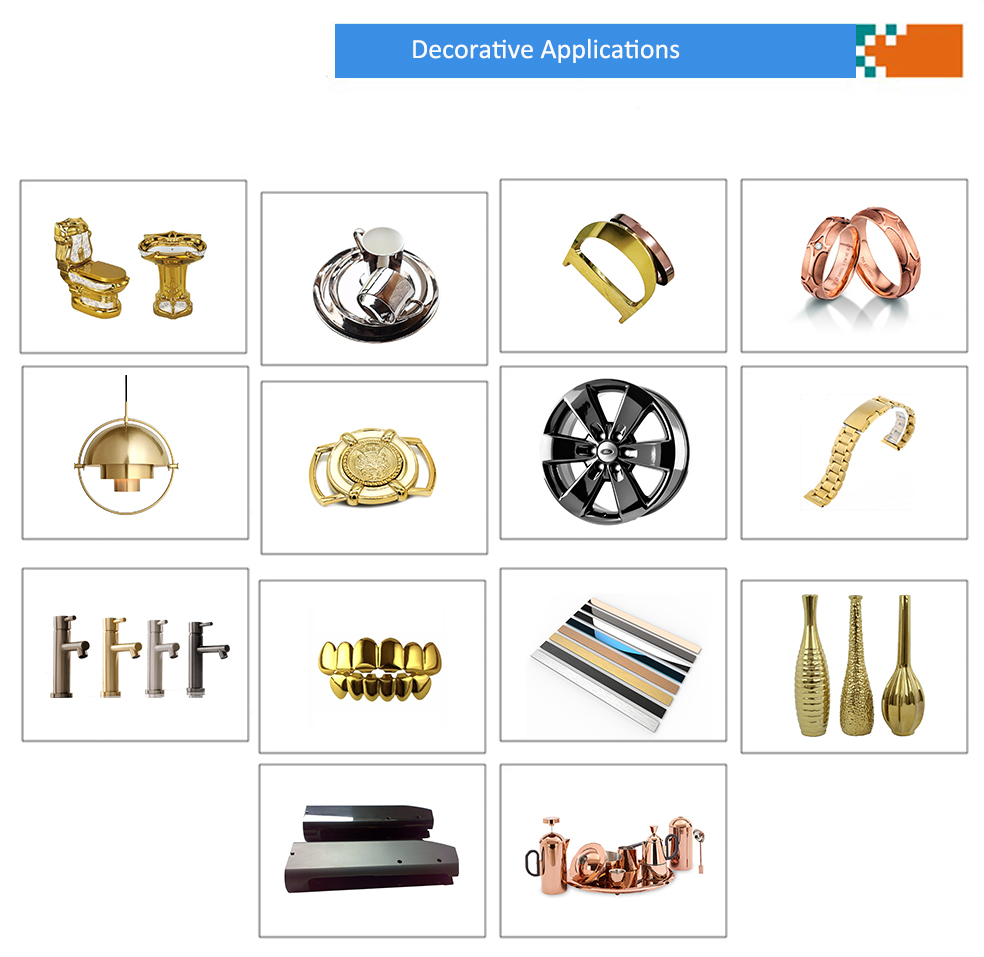 Specifications:
Type
SP-700
SP-900
SP-1000
SP-1200
SP-1400
SP-1800
Vacuum chamber size
Ф700×H800mm
Ф900×H1000mm
Ф1000×H1100mm
Ф1200×H1400
Ф1400×H1600
Ф1600×H1800mm
Power supply
Pulse bias power supply; DC/MF magnetron power supply
(can be equipped with different power supply by requested)
Vacuum chamber structure
Vertical single/double door, rear vacuum acquisition system
Vacuum chamber material
Carbon steel or stainless steel304
Ultimate vacuum
8.0×10-4Pa
Pumping speed
From 1 atm to 6.7×10-3Pa take 8~15min (room temperature, clean and unload)
Vacuum system
Diffusion pump + roots pump + rotary vane pump + holding pump
(can be adjusted by requested)
Magnetron target type
Planar magnetron target, cylindrical magnetron target
Pulse bias power supply
25KW
25KW
30KW
30KW
40KW
Shelves rotation system
Planetary revolution and rotation, frequency control, upper and base rotation shelves, number of axes
equipped by requested.
Process gas
Mass flow controller (3-4 ways), manual or automatic processing gas systems
Cooling system
Water-cooling system. Cooling water tower, industrial cooling water machine or deep water cooling system is needed to purchase separately. ( or supplied by user)
Control system
Manual or PLC + touch screen
Company Products: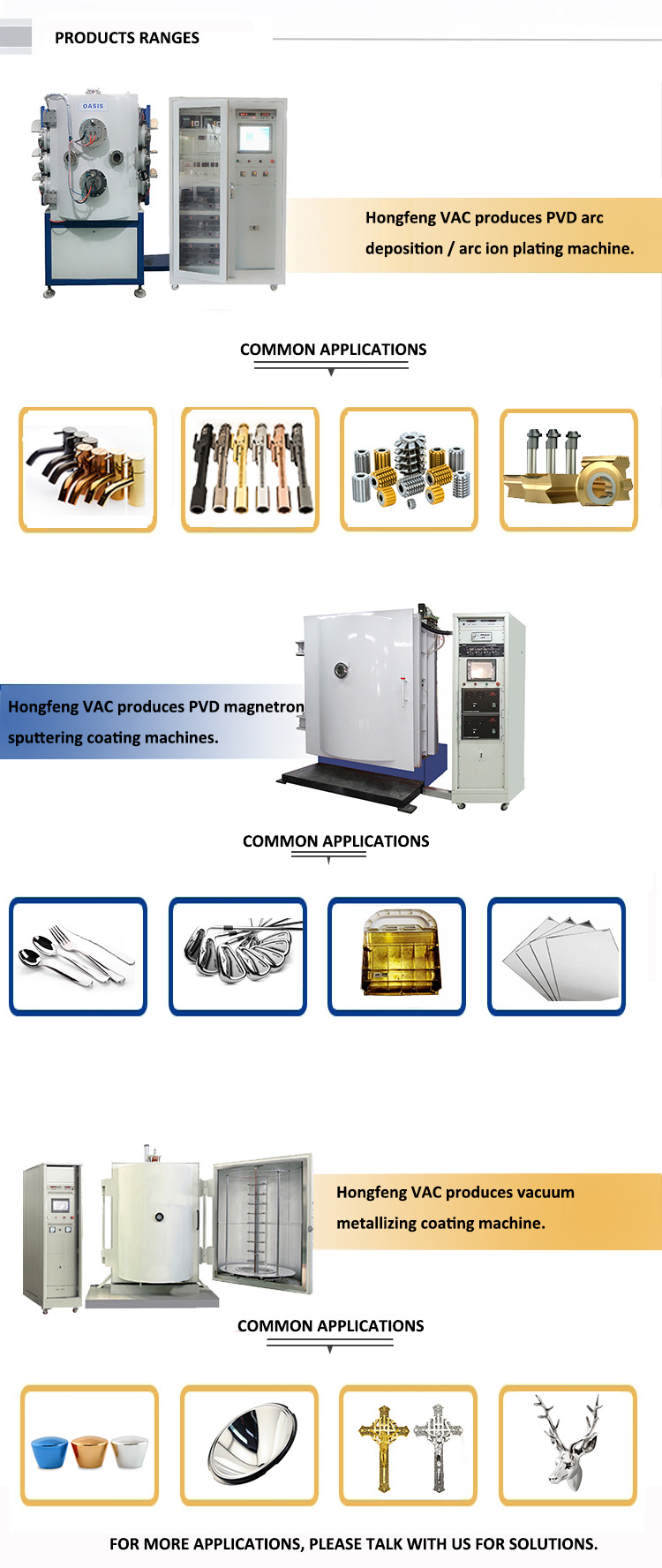 We do have different models of PVD coating machine. But usually we recommend the machine according to the size of the max. parts of customers. Since we have seen the drawing of pcs from you, we will make sure the machine can coat all of your pcs and reaches to the desired capacity.
...more
Get the latest price? We'll respond as soon as possible(within 12 hours)