>
>
>
Vacuum Magnetron Sputtering Evaporation Coating Machine
Vacuum Magnetron Sputtering Evaporation Coating Machine
Brand :Hongfeng VAC
Product origin :China
Delivery time :Within 60 working days after order
Supply capacity :30 sets per year
Vacuum Magnetron Sputtering Evaporation Coating Machine comes with both of magnetron sputtering and thermal evaporation coating system. Vacuum Magnetron Sputtering Evaporation Coating Machine allows you to obtain the most wide range of application with this machine
Vacuum Magnetron Sputtering Evaporation Coating Machine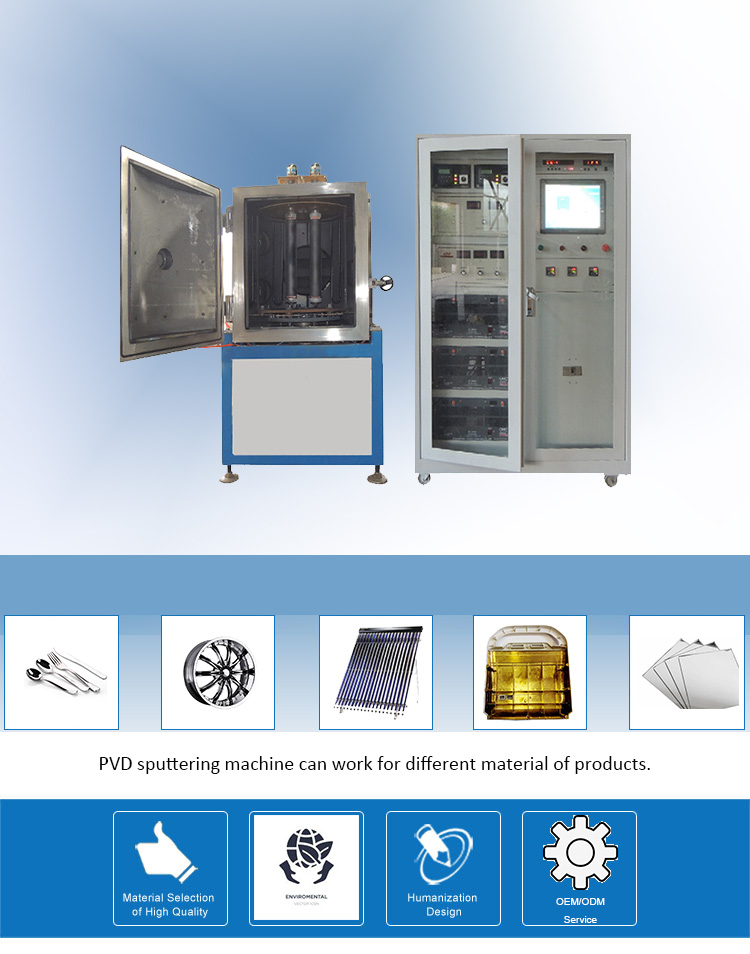 Machine Description:
The machine was designed to be multifunctional for different industries.
We provide magnetron sputtering and thermal evaporation aluminum coating units in the same system, in this case, the machine can make fast cycle vacuum metallzing process and also, it is capable to apply different metal coatings with sputtering system.
It meets different production needs. The machine vacuum chamber is customized.
Technical Specifications:
Name

Specification

Quantity

Vacuum Chamber

Size

Diameter1000*Height1100mm or customized size

1 Set

Type

The body type is vertical, single chamber with one door.

Carousel

Rotating speed: 0-4 rpm alterable, rotating direction alterable.

Vacuum System

Rough Pumping Unit

Mechanical Pump

Rankuum

1 Unit

Mechanical Pump

1 Unit

Fine Pumping Unit

Roots Pump

1 Unit

Oil Diffusion Pump

1 Unit

Vacuum Duct and Valves

High Vacuum Valve

1 Set

Φ 100 High Vacuum Valve

Φ 150 High Vacuum Valve

Description

Bellows(all set) and cylinders are equipped.

Vacuum Measuring

To measure the vacuum degree with sensor

Vacuum Composite Gauge

Reborn

1 Unit Each

Metal Pirani Gauge

To Measure the vacuum gauge in the working chamber

Metal Ionization Gauge

To Measure the vacuum gauge in the pipeline

Description

Two metal vacuum gauges and two thermo-couples, three measuring points for coating chamber, vacuum duct and diffusion pump measuring.

Evaporation Unit

Evaporation Unit

Made of Copper(in the middle of working chamber)

Hongfeng VAC

1 Unit

Evaporation Transformer

The valve is controlled by manual according to the parameter, which to control the evaporation rate.

Made in China

1 Unit

Magnetron sputtering system

Cylindrical sputtering system with power source

This unit is cooling down by cooling water. You can control the thickness of coatings by parameters such as power, coating time.

Hongfeng VAC

1 Set

Control System

PLC automatic control, 10.4 inches color touch screen display HMI. Manual mode is also available.

Mitsubishi modules built-in

1 Unit

The cabinet contains the controlling unit of the whole system which includes: Evaporation power source, vacuum composite gauge, controlling touched screen, electric current display, voltage display, and all the electrical components.

Electrical Components and Other parts

Contactor, thermo relay

CHNT

All

Venting System

Automatic venting system is applied

1 Set

Alarm system

Low cooling water pressure alarm and automatic shutdown.
Machine Applications: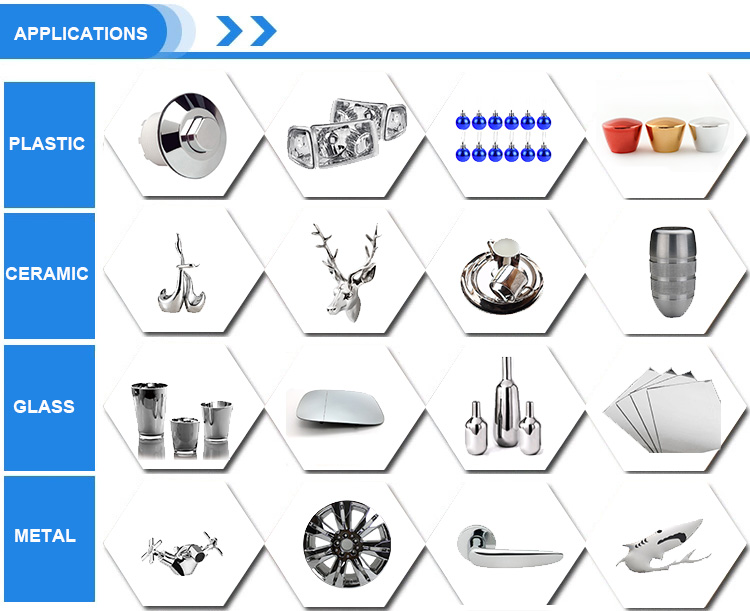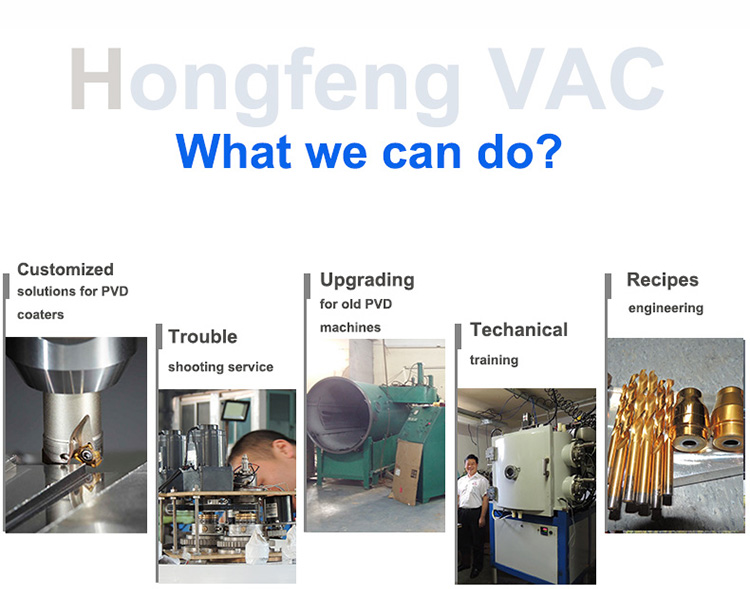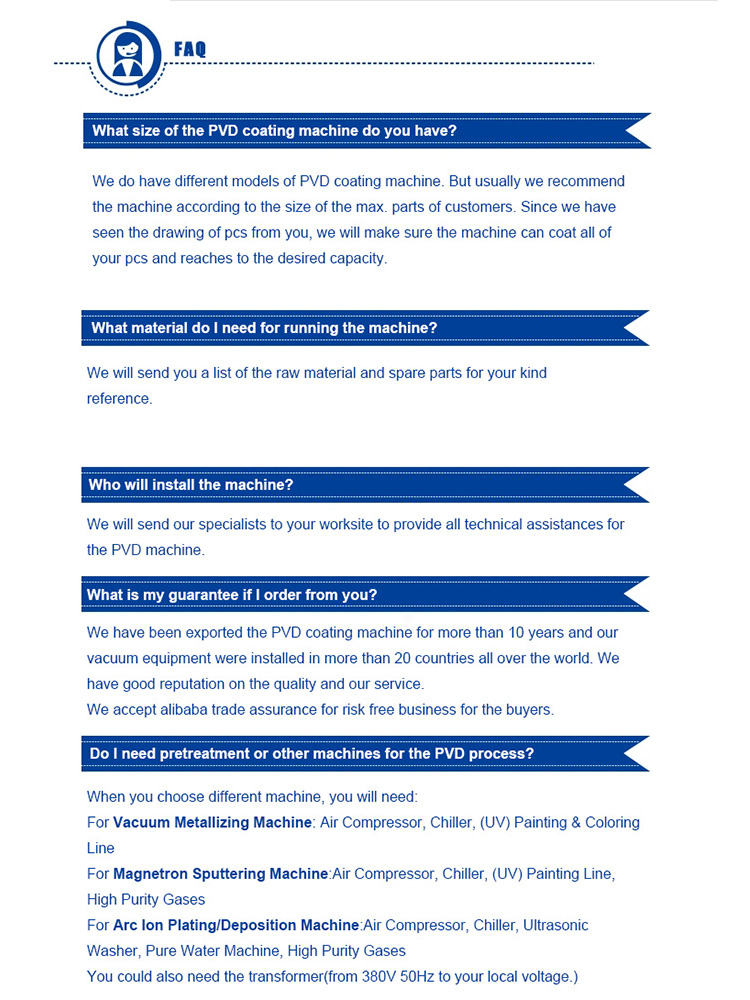 We do have different models of PVD coating machine. But usually we recommend the machine according to the size of the max. parts of customers. Since we have seen the drawing of pcs from you, we will make sure the machine can coat all of your pcs and reaches to the desired capacity.
...more
Get the latest price? We'll respond as soon as possible(within 12 hours)